Kohler Highline 1.28 toilet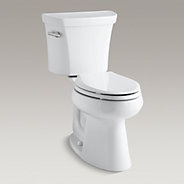 The Kohler Highline 1.28 gallon per flush toilet. I put one in my warehouse restroom courtesy of Cleveland Plumbing Supply and Kohler Co.
I was amazed at how well this toilet is made and how well it flushes. The trip lever is a very nice design that takes less push power to trip. An important feature as the population ages. It has a canister flush valve that makes maintenance a snap. The canister flush valve seal should out last a flapper many times over. The toilet has a very pleasing design to the tank. The 'drop zone' for waste entry has a much larger water spot than I've been seeing with the most recent toilet designs. That means less streaking.
On a scale of 1-10...I'm thinking 10 here.