Unusual Floor Repair Method After Toilet Pipe Repair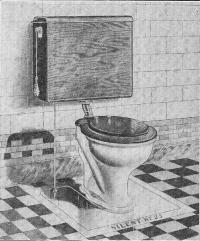 A while back a customer of mine had asked me to take care of a problem he was having with water coming thru the kitchen ceiling when he flushed the toilet. Upon opening the ceiling we found that there was a hole in the lead closet bend going from the cast iron stack to the toilet flange connection. The only way to repair that was to go thru the floor (which was the original tile and cement floor) and repour another joint this time using plastic for the bend instead of lead. That was all straight forward.
What was interesting was how he fixed the floor. Most of these bathrooms have tile that is no longer made which generates a problem unless the people want to tile the whole floor. The homeowner called me one day and asked if it was weird to use a slab of marble to put the toilet on since there would be no way to match the floor tiles. He was sort of wondering if it was going to be just to plain weird or not.
I told him that it may sound weird to anyone today, but in fact it was done that way in the late 1800's and early 1900's. I located one of my prize possession turn of the century catalogs and scanned him some pictures of the original ad's. The homeowner and his father in law then took the idea and ran with it. When I was called in to reinstall the toilet I couldn't believe how nice of a repair this made. I immediately thought that I had to make a web page with pictures of this technique so others can do the same. It looks so much better than the white cement I usually see done.